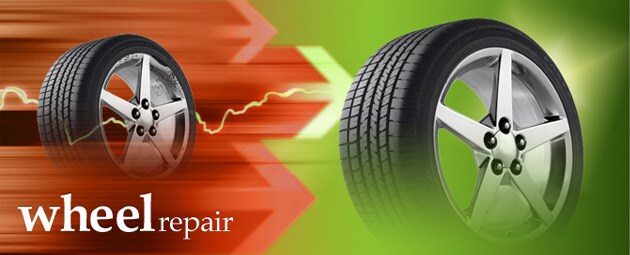 Sometimes we can't avoid that pothole or curb. Stuff happens.
In many cases, Lone Star Chevrolet Collision Center's Expert Master Technicians can restore your wheel to its original finish at under half the original cost of a new original equipment alloy wheel.
Wheels scraped, gouged, scratched, stained, corroded, or rubbed, our professional refinishing process can restore them to look like new. We can even provide custom cosmetic refinement too!
Bent or broken alloy wheels can create vibrations that cause undue stress to vital suspension parts and potentially can cause unsafe driving conditions.  As a result, many manufacturers strongly recommend to replace bent or broken alloy wheels, rather than attempt to repair the damaged alloy wheels.
As part of our collision center's Free Estimate for customers, our certified Master Technicians will first inspect damaged alloy wheels to determine whether the wheels can be repaired, or whether the wheels need to be replaced, with this inspection at no cost to you.  Consistent with our collision center's "Safety First" policy, we will only repair damaged alloy wheels if the repair can be made in a manner that is consistent with manufacturer service guidelines.  If the damaged alloy wheels need to be replaced to ensure the safety of your vehicle, our collision center has a wide selection of alloy wheels and the expertise to make the replacement promptly to restore your vehicle to pre-accident condition.
Roll on in for your free estimate today!